Description: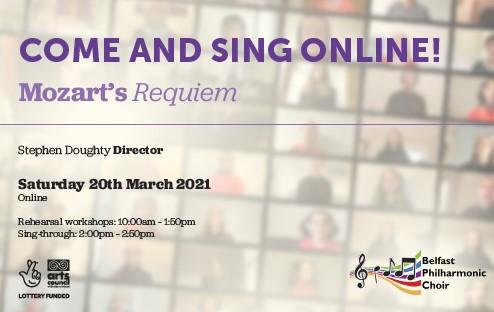 Have you missed singing with your choir? Want an opportunity to get your voice back to working order? Or simply want to discover new performance techniques for one of the most famous and beautiful choral works?

Then join members of Belfast Philharmonic Choir, Chorus Master Stephen Doughty and an array of professional section leaders to learn Mozart's Requiem in a day of music-making for singers of all ages and experience!

In a series of online workshops, singers will be guided through warm-ups specially designed for singing at home and led by a professional singing teacher. We will then work through the movements of Mozart's Requiem in smaller sectional rehearsals where we will focus on your own voice part and get tips on singing that to your very best. There will be opportunities to ask questions of the music leaders as well as chat with singers from all over Northern Ireland and further afield. There will also be breaks throughout to give time away from screens.

To conclude the singing day, in the afternoon we will all come back together for a full sing-through of the Requiem, led by Stephen Doughty and using full orchestral recorded music as a backing to your singing. Singers will be able to perform from home, knowing that we're all singing the same piece at the same time!

As an added bonus, following the workshop you will also have an opportunity to send us a recording of yourself performing one of the movements, which Belfast Philharmonic Choir will engineer into a complete recording, as a record of the day and of the strength of our voices when they are brought back together.

The Come and Sing annual event is one of the highlights of the Philharmonic season, and we look forward to welcoming singers to our sing-from-home edition – wherever your home might be!

Timetable:
10:00am-1.50pm Workshops
2:00pm-2:50pm Sing-through
(If you're not in the UK or Ireland, check the time-zone converter)
Participating in the day:
If you have your own score you can use that, or a PDF version can be downloaded here. If you require the score in another format please email Laura with more information.
Before the event you will be sent a link to complete with more information about your booking, including voice part. If you have purchased tickets for more than one person, you will be asked to provide their name, voice part and email address.
The workshop will be held on Zoom - an online meeting platform. You will get the best experience on a laptop or tablet, but you can attend using a mobile phone, Each singer will require their own device to attend the workshop.
Participants will be sent a link to attend the day before the Come and Sing. Please do not share this link with anyone else.
If you require any additional access provision to attend the Come and Sing please email Laura with more information so we can help.