Description: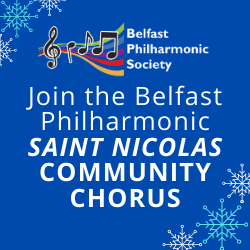 Be part of the Phil's virtual festive concert for December 2020
For our winter concert in 2020, the Belfast Philharmonic Society are producing a virtual choral performance involving all of our singers, from the P4s in Phil Kids all the way through to our adult choir. We will be recording the whole of Britten's Saint Nicolas, a Christmas cantata written to be performed by amateur choir and congregations alongside professional soloist and musicians.
For our full performance, we're looking for enthusiastic singers of all experience levels to be part of our virtual congregation in the concert's two hymns. Singers will join us in an evening workshop delivered by the Society's Chorus Master Stephen Doughty, Youth Choirs Artistic Director Lynsey Callaghan and Assistant Director Caroline Jones. You will be taught the two movements as well as vocal techniques for warming up and performing to video. After the workshop we will send you the backing tracks to record yourself on video which our professional producer will mix into one huge choral performance. On the weekend before Christmas, we will release the full concert online for choral audiences across Northern Ireland and worldwide, so everyone can join us to celebrate choral music in the holiday season.

If you would like to take part, please click the red BUY TICKETS icon link and then fill in your details on the Zoom page to register for the workshop.

The workshop and participation in the community chorus are free, but if you would like to contribute to the work of the Society during the Covid-19 restrictions donations are very welcome.

Please note: to participate in the Community Chorus you will need to submit a video recording of yourself singing the two movements, and the deadline for submissions will be 1st November. You will receive music tracks and instructions to help you record.

This project has been supported by the Arts Council of Northern Ireland Organisations Emergency Programme.